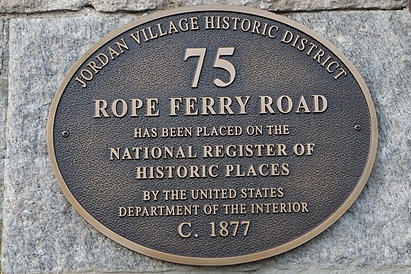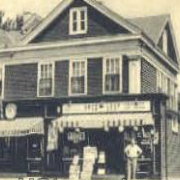 The Jordan Village Historic District is a well-preserved, discrete, residential community of small and moderate-scale buildings that developed primarily after 1848, the date of construction of the First Baptist Church of Waterford.
Clustered around the intersection of Rope Ferry Road, the main east-west road that connected New London with the ferry crossing the Niantic River to the west, and North Road, a prominent local thoroughfare to the interior of the town, the village is located on flat land known historically as Jordan Plain at the head of Jordan Cove, a historically navigable estuary off Long Island Sound. Jordan Brook, which flows southerly to Jordan Cove, is located on the east side of the district.
The Jordan Village Historic District consists of 69 structures (58 contributing; 11 non-contributing) and one site, with the Greek Revival and late-19th century picturesque tastes dominating. Its period of greatest development was from 1848 through the 1860s, when 20 buildings were constructed. This pattern of growth gives the village an architectural homogeneity that distinguishes it from surrounding communities.
Part of the Town of Waterford, Jordan Village was the population center of the community, and the limits of the district are defined by the concentration of period buildings that make up the village and support the historic themes.
Always a small community with little commercial focus, the village center remains a residential enclave with few non-conforming intrusions. Recent development to the east and north of the district, however, help define the limits of the historic portion of the village and isolate it as a historic nucleus of the community.
For more information see
http://www.livingplaces.com/CT/New_London_County/W…