Pokemon GO is here!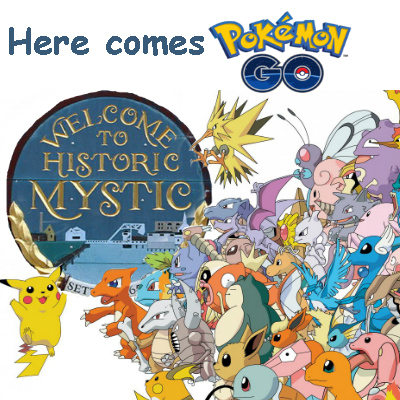 Do you remember Pokemon, the Japanese anime cartoon monsters from the late 1990's and early 2000's? Well now they are back as an app on your android or ios devices and are approaching twitter in daily use. You can find the characters in Mystic, Stonington, Ledyard, Groton or most anywhere!
Common Pokemon can be found almost anywhere, including schools, ballfields and shopping centers. Rock-type prefer roads roads, parking lots and other hard surface areas. Parks, farms and fields are home to the grass-type and bug-type creatures. Rivers, lakes, Long Island Sound and Fishers Island Sound are homes for the water-type pokemon. Steel-type, Ice-type, Fire-type, Ground-type, Flying-type, Dark-type, Fighting-type, Electric-type, Psychic-type, Fairy-type, Ghost-type and Dragon-type can also be found in various locations.
According to Dale Wolbrink, Director of Public Relations, "Mystic Aquarium has found themselves immersed in the excitement. On the Mystic Aquarium campus, there are four (4) PokeStops at both indoor and outdoor exhibits. Players have also acknowledged Mystic Aquarium also has a "gym".
Pokémon Trainers can be found roaming among Mystic Aquarium's more traditional visitors in search of hotspots to complete their Pokedecks.'
You may find Eevees, Ekans, Electrodes and or an Electrabuzz at one of our Open Houses. Stop by 43 Seabury Avenue in Ledyard on Sunday from 11:30 – 1:00 and see if there are any in the Avalonia Land Conservancy adjoining the backyard or in Mystic later at 2060 Gold Star Highway. Happy hunting!
#PokemonGo #OwnSweetOwn