​Moving and downsizing? Tips to save on 2016 Taxes!
Moving and downsizing? Tips to save on 2016 Taxes!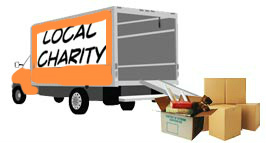 If you are getting ready to move in 2017 you might want to think about making some donations before the New Year. There are several questions to ask yourself as you get ready to move.
Are you going to be able to fit all of your furniture in your new home? Are you going from four bedrooms to two? What are you going to do with the extra beds, night stands and dressers? Will your new home have a living room and a family room? Are all of your couches and recliners going to make the move? Do you need a kitchen table and a dining room table? Will you need your outdoor furniture?
Consider the wall space in your new home. Will you be able to display all of your art? Now that you don't need the extra bedroom sets will you still need all of your linens? What else is stored in your closets that will not be needed? Have you thought about leaving winter coats and other clothing if moving south?
Do you cook as much as you used to when there were more mouths to feed at home? How many pots and pans will you be taking with you? Do you still need place settings for eight or twelve? Do you need so many kitchen utensils and so much silverware?
Are you going to need to mow the grass in your new home? Will you do as much gardening? Do you need the lawn mower, snow blower, rakes and shovels?
As you realize how many items you will not be taking with you consider the numerous charities that would be glad to accept your donations and give you a receipt for you to claim your charitable donations on next year's taxes. Keep in mind that the charity will not specify a value to your donations and each donation can go up to $250 if not valued by an appraiser.
There are many places to make your donation. Safe Futures, http://www.safefuturesct.org/, Stonington COMO Thrift Shop, http://www.thecomo.org/, The Jonnycake Center of Westerly, http://jonnycake.org/, and the Blue Mitten Thrift Shop, https://www.facebook.com/bluemittenthriftshop/ are a few of the local places to make your donation.
By making donations of your soon to be unnecessary possessions you will reduce the stress of your move, help someone in need and be able to save on your tax bill for 2016. It is a win, win, win situation!