Connecticut Pandemic Home Selling Guidelines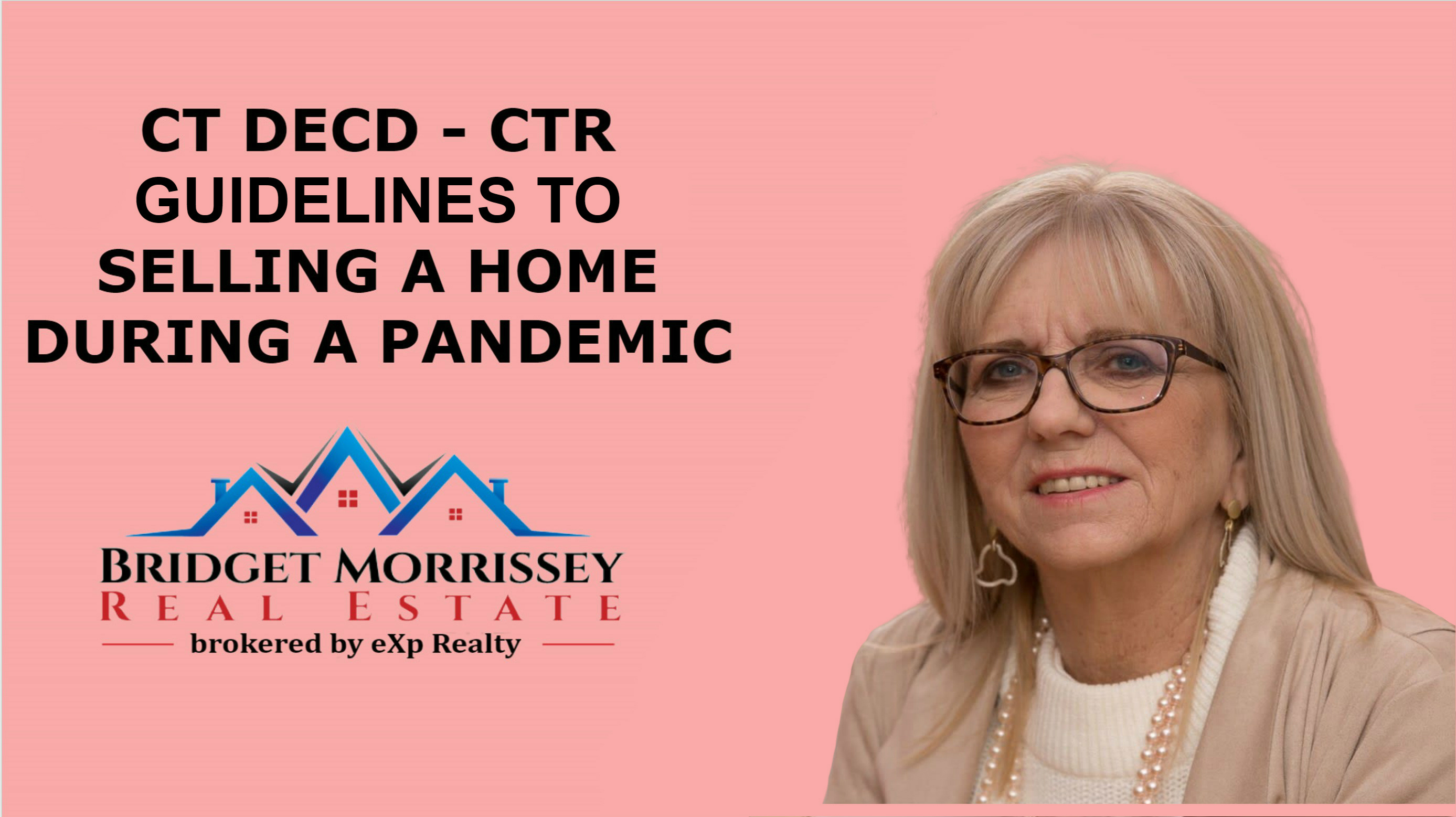 Do you know how to sell your home with the current STAY AT HOME orders? Listen, you don't want to spend hours trying to find out what the new state guidelines are for selling a home during the pandemic. What if I told you that electronics and virtual assistance are available to sell your home with little stress? They are! Bridget Morrissey Real Estate brokered by eXp Realty will show you how!
In this episode you will discover how homes are marketed during the current situation, what the mandatory guidelines from the State of Connecticut are, and how documents get filed electronically. We have been busy with closings, new listings and marketing our current listings. I am Bridget Morrissey and thank you for being with me today!
Let's get started!After you decide to list with a Realtor, you need to fill out the EXCLUSIVE LISTING AGREEMENT. The top half of the first page and the bottom half of the second page need to be filled out. This can be accomplished if we observe the six foot social distancing rule or it can be done electronically.
Sellers also need to know that homes priced fairly are selling because the inventory of homes for sale is low. Some potential sellers are waiting to see what the market does. Delaying may see prices drop as more and more homes come on the market.
Overpricing adds to the number of days a home sits on the market. When the days add up potential buyers wonder what is wrong with the home and do not schedule a showing.Get a listing power analysis to determine the price for which your home will sell.
Next is your homework assignment! The 7 page DISCLOSURES form needs to be filled out stating the condition of the premises. Again, this can be done by the seller and filed with the Realtor electronically.This would occur if the buyer were also represented by someone from the same brokerage.
Dual Agency means that the Brokerage Firm, and all the brokers and salespersons for the firm act in a fiduciary capacity for both Buyer and Seller.
Lucky for me, I joined eXp Realty three years ago. As a cloud-based agent owned company, eXp Realty was prepared for what is happening all around us.
Working from home in the virtual world has prepared me for our current circumstances. I have my own little avatar and travel all across our virtual campus. There are 60 live webinars each week to keep up on my training. We have our own state of Connecticut office and boardroom on the virtual campus for our bi-weekly meetings and a huge auditorium for our weekly international meeting. It has been a huge help to be able to prepare marketing materials for the homes that I sell.
However, before we can show your home, though, there is something I want to discuss with you. The Connecticut Department of Economic and Community Development and the Connecticut Realtors have put together guidelines for showing a home. Here they are.As a seller you may be concerned about how your house is being shown.
These are guidelines reviewed by Department of Economic and Community Development at the request of Connecticut Realtors:
1. Each individual who is essential to a real estate transaction and requires entry to a property for sale shall be required to wear a mask .
2. Each real estate licensee shall require clients entering premises to wear a mask .
3. Occupants who do not leave the premises while a business service is being provided shall be required to wear a mask
4. No one shall be required to wear a mask due to a medical condition.
5. It is recommended that employees and independent contractors wear gloves at all times.
6. Discontinue offering foods and drinks on premises.
7. Encourage strict limitation of entry into the premises to those most essential to real estate transactions; specifically, real estate lagents, prospective buyers, and service workers.
8. Prospective buyers will be limited to those people actually purchasing the home. It does not include parents, children or friends.All of the guidelines are in place to protect everyone involved.
It is home selling season and Ledyard has been red hot! The homes on Muster Lane, Church Hill Road, Washington Drive and Gallup Hill Road on this postcard all sold as winter turned into spring.
You probably noticed how I keep mentioning postcards. That is part of my marketing strategy. I like to make the neighbors aware of a home going on the market as well as the move up buyer. The neighbor may know someone who likes their neighborhood. The move up buyer is someone who is looking for a bigger house in the same town so we mail postcards to those neighborhoods, too.
Thank you for attending the LIVE event today. Also, thank you to the Greater Mystic Chamber of Commerce for organizing the presenters and including Bridget Morrissey Real Estate brokered by eXp Realty. I
f you have any questions please feel free to call or text Bridget at 860-857-5165 or send an email to bridgetamorrissey@gmail.com. Any questions? Good-bye!