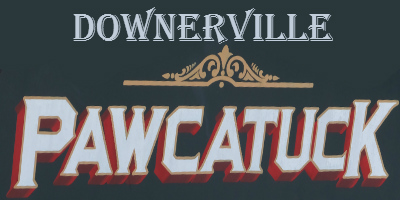 Downerville in Pawcatuck, a part of Stonington CT, is located just across the Pawcatuck River from Canal St in Westerly RI.
According to archives, "On the south side next west of the Stillman Mill was the planing mill, office and draught room of C. Maxson & Co., then the Pawcatuck Hotel, Avery Hoxie, landlord, with livery stable in the rear. The next was the home of Dr. William Robinson, in his day a large owner of real estate. He held title at time of death to a large part of Downerville, better known years ago by that name than at present, and I wish to correct the impression that may have existed why this part of Pawcatuck was thus named.

The name came from a man who did not live in Pawcatuck or have any real estate here. Mr. George Downer, a New York business man, was the executor of Doctor Robinson's will, with power of sale. Many who bought lots here and built their homes never heard of Doctor Robinson, but the popular Mr. Downer made the sale, signed the deed, and thus Downerville."

For more information see
https://archive.org/stream/pawcatuckinolden00hinc/…
Pawcatuck Realtor Bridget Morrissey is pleased to present the Pawcatuck Real Estate Market Report. If you have any questions regarding Pawcatuck homes for sale feel free to call or text Pawcatuck Real Estate Agent Bridget Morrissey at 860-857-5165.